Élysée Impression Number 1 Limited Edition 1994
by Jim Mamoulides, December 27, 2001, Updated July 1, 2017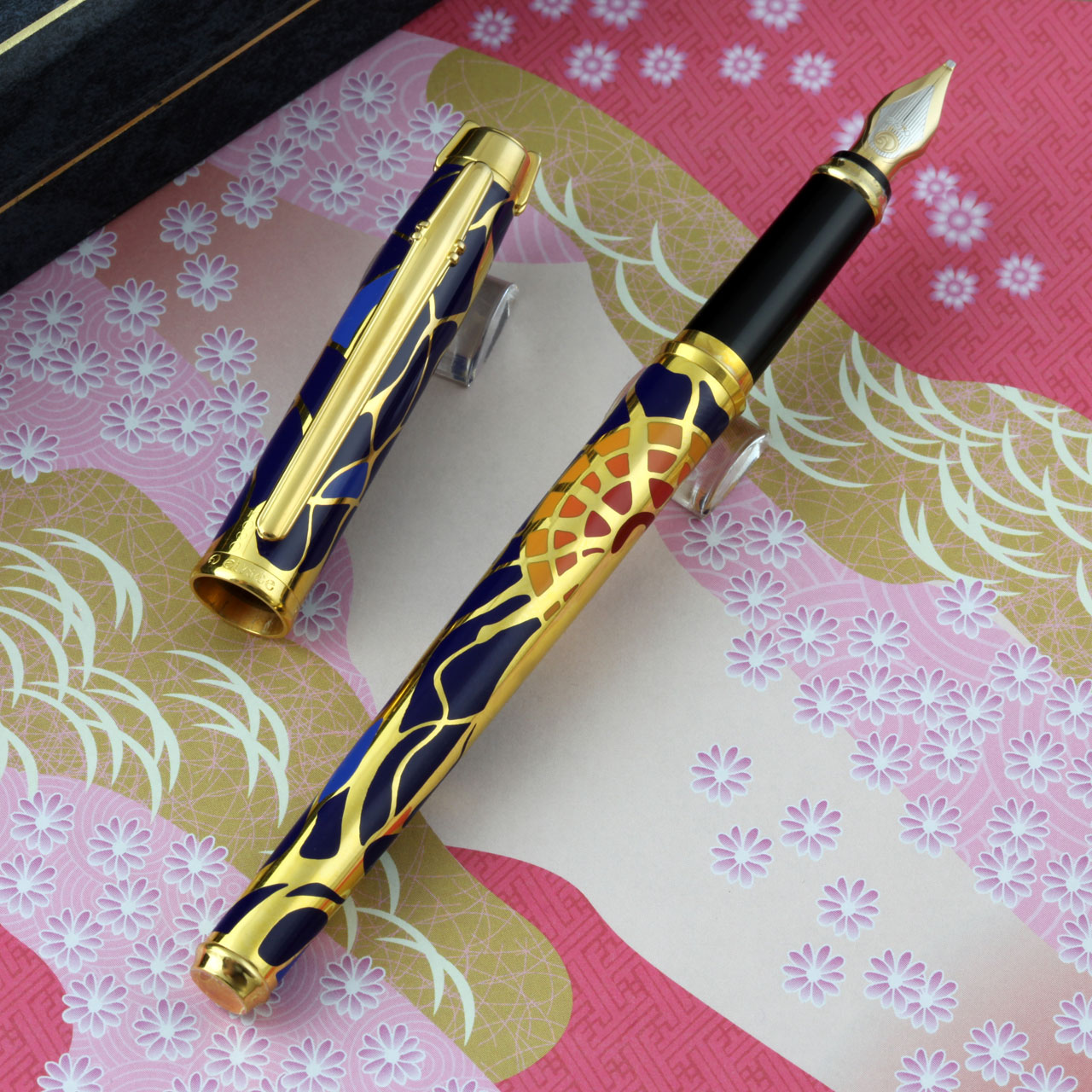 Élysée Impression Number 1 Limited Edition 1994
Click the image above to see a full screen slideshow
Impression Number 1: Toward the Light
The third of Élysée's Limited Edition Vernissage series, Impression No. 1 "Toward the Light", was created by artist Manfred Eberhard. He believes that "art has the task of creating freedom for human feelings." The Vernissage series uses Chinese Cloisonné art as the basis for the pen design. Vernissage is a French term for a private art exhibition for invited guests. The Élysée Parthenon model is as the canvas and the result is a very distinctive and unique series.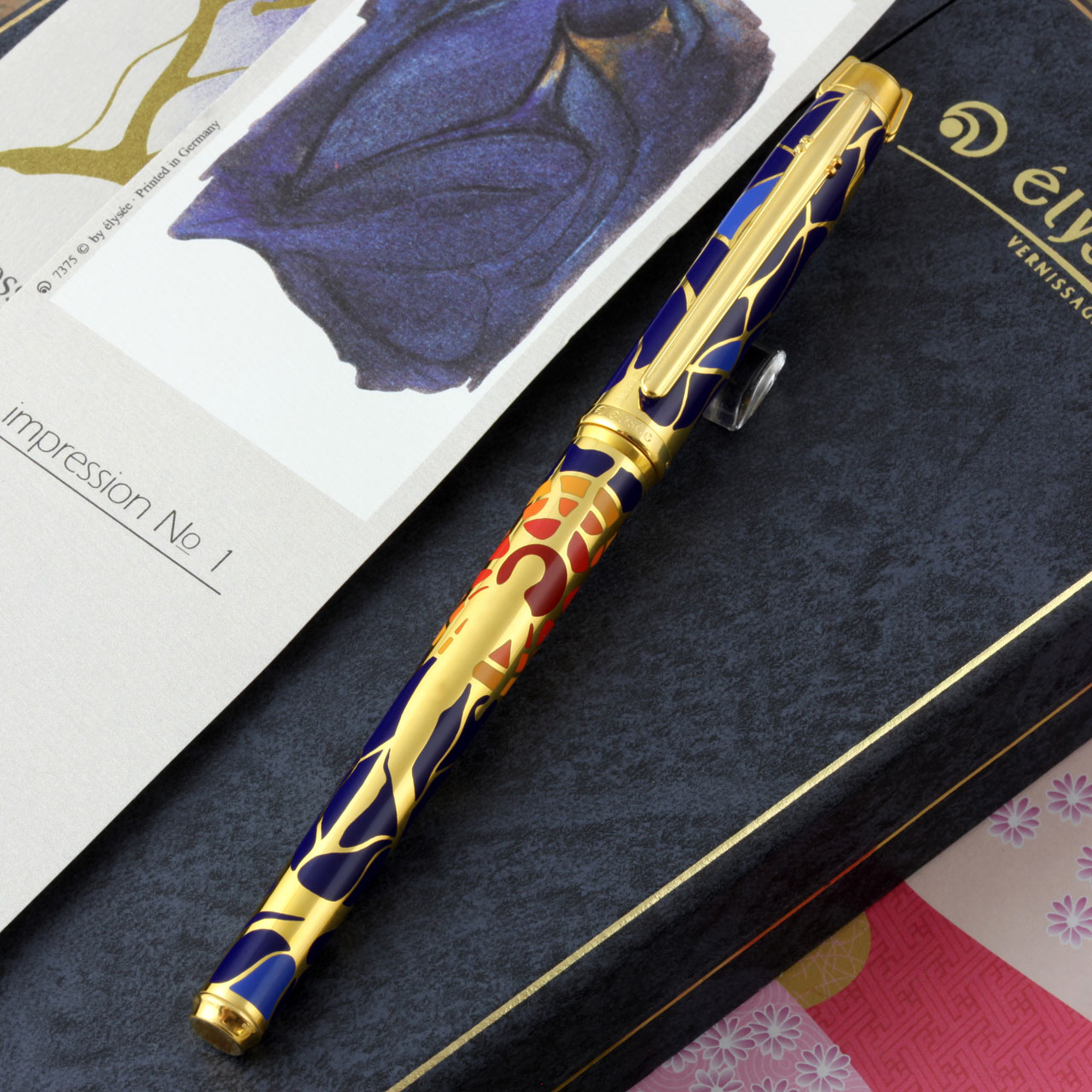 Élysée Impression Number 1 Limited Edition 1994
This pen is the most elaborate of the series. The artwork depicts a human shape walking towards the sun. Manfred Eberhard describes this as a hopeful vision that "every individual will find a positive attitude towards life when stepping out of the shadow towards the light."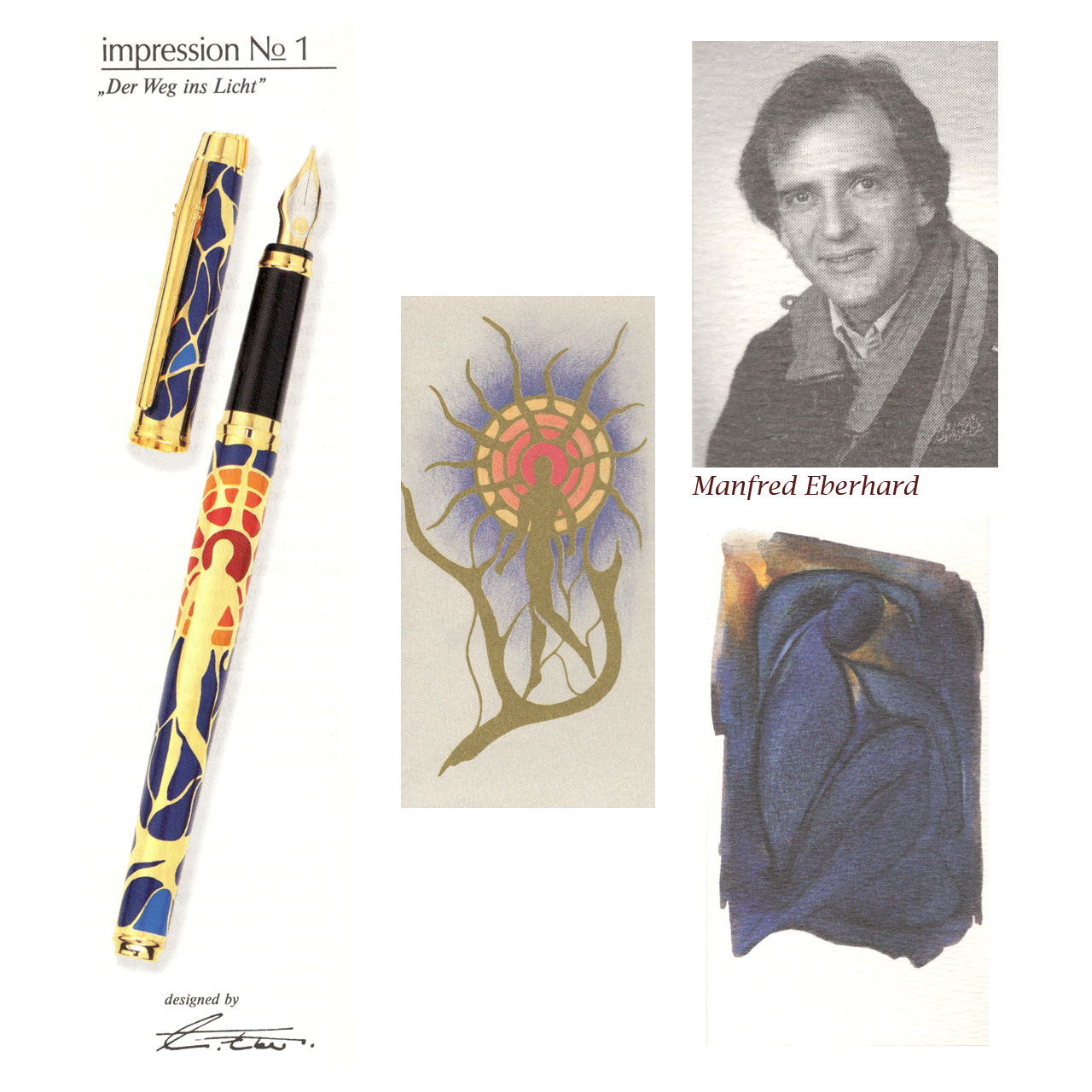 Élysée Impression Number 1 Limited Edition 1994 brochure pictures
The walking figure is rendered in bright gold framed by a brilliant sunburst behind the figure's head. The predominant base color, in segments implying the flicker of light against the dark, is a dark blue enamel, possibly a nod toward the "Blue of Jingtai", the popular color used in Chinese Cloisonné from the latter Ming period, in the reign of Jingtai (1450-1456). This dark blue is dotted with segments of a lighter blue. Above the head of the walking figure, on the cap, are two golden birds in flight, soaring above, adding to the positive message.
Identification guide and features:
Élysée released this edition in 1994. One or multiple writing instruments were presented in an elaborate snap closure display package that opens like a bookcase. The Impression Number 1 fountain pen has a highly decorated two-tone platinum masked solid 18 karat gold nib that was available in extra-fine, fine, medium, and broad point sizes. All Élysée Limited Edition instruments came with an implied lifetime warranty.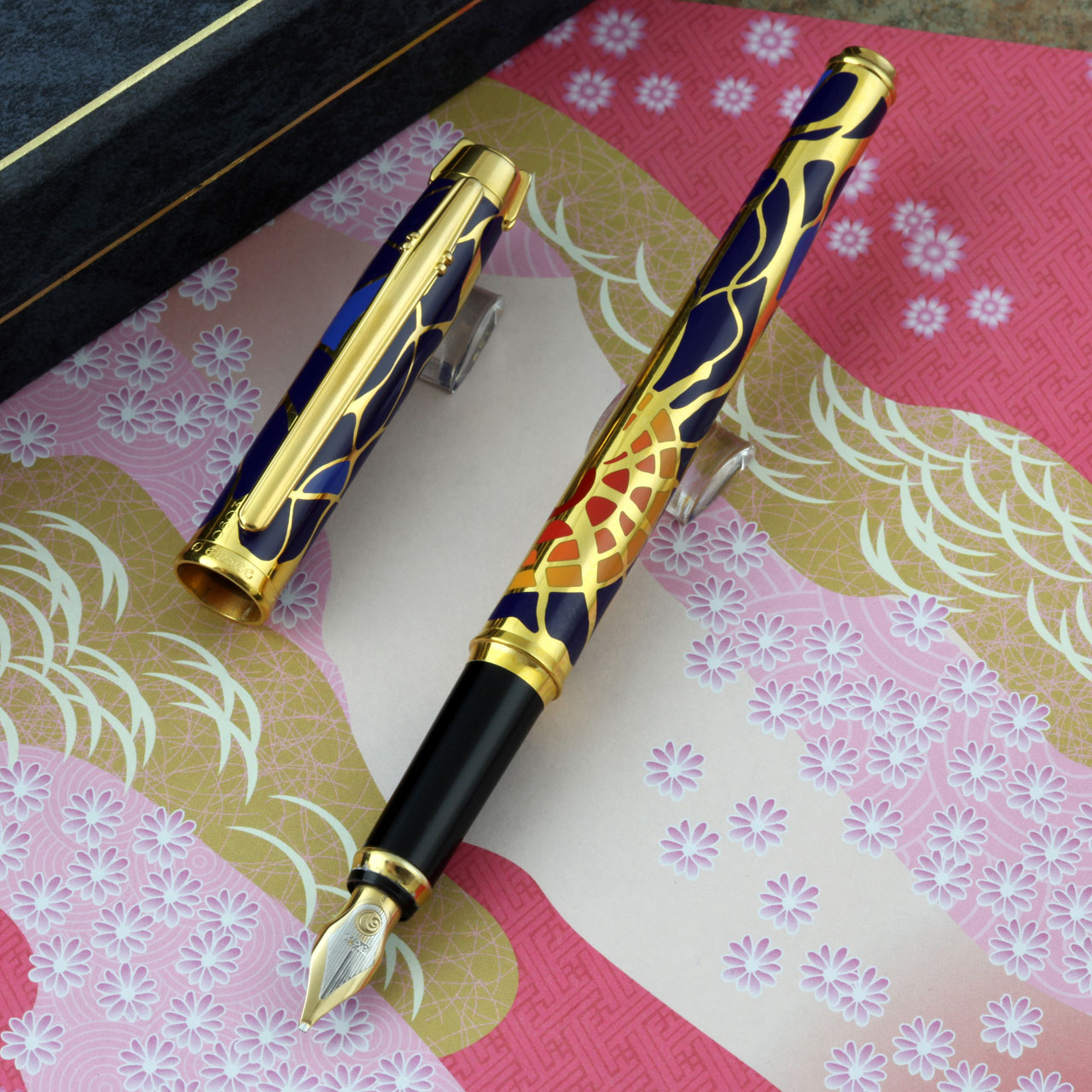 Élysée Impression Number 1 Limited Edition 1994
The Impression Number 1 Limited Edition came in individually numbered instruments in four writing modes:
Fountain Pen, 6,000 numbered pieces - $425.00
Capped Rollerball Pen, 6,000 numbered pieces - $350.00
Twist Action Ballpoint Pen, 4,000 numbered pieces - $325.00
Twist Action Pencil, 4,000 numbered pieces - $325.00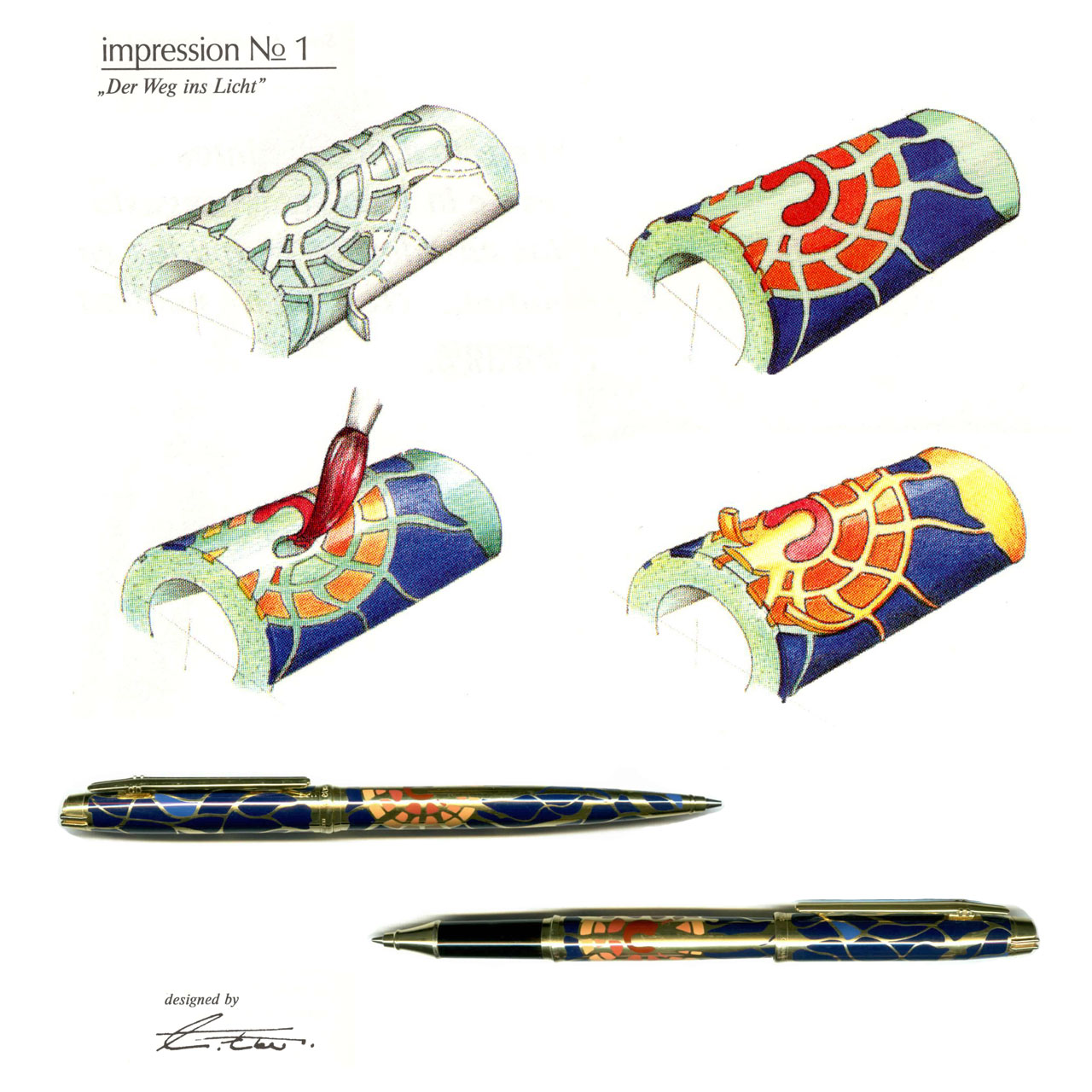 Élysée Impression Number 1 Limited Edition 1994 brochure pictures showing cloisonné process with images of pencil and rollerball pen
Cap and barrel is cloisonné, with multiple lacquer elements filled into cut depressions, polished smooth and then finished with 18 karat gold plating
18 karat gold plated trim
Cap band has Élysée engraved on the front, Germany 18K GOLD PLATED on the back
Edition number is laser engraved next to the end of the clip
Cap top has cast Élysée logo
Cap pulls off
18 karat gold platinum plated open nib with Élysée logo
Nib grades offered were extra-fine, fine, medium, and broad
About 5 5/8 inches capped and 6 1/8 inches with the cap posted on the end of the barrel
International type cartridge / converter filling system
Presented in large display box
Matching rollerball pens, ballpoint pens and pencils were available
Performance
As with all Parthenon based pens, the Impression Number 1 has a similar weight and feel in the hand as the slightly larger Cross Townsend line, having the same all brass construction. The Impression Number 1 is a long and slender pen, 5 5/8 inches capped and 6 1/8 inches posted. These are solid and substantial pens, yet nicely balanced, capped or posted. The cap snaps securely both on the section and the barrel end, another similarity to the Townsend. The cap adds weight to a fairly heavy pen, but it is well balanced in the hand either way.
All the pens in the Vernissage Collection are decorated using the Chinese Cloisonné technique that is very smooth, but there is some slight variation where the enamel fill and the plated ridges meet. The metal surfaces are plated, not electroplated, which should make them wear well.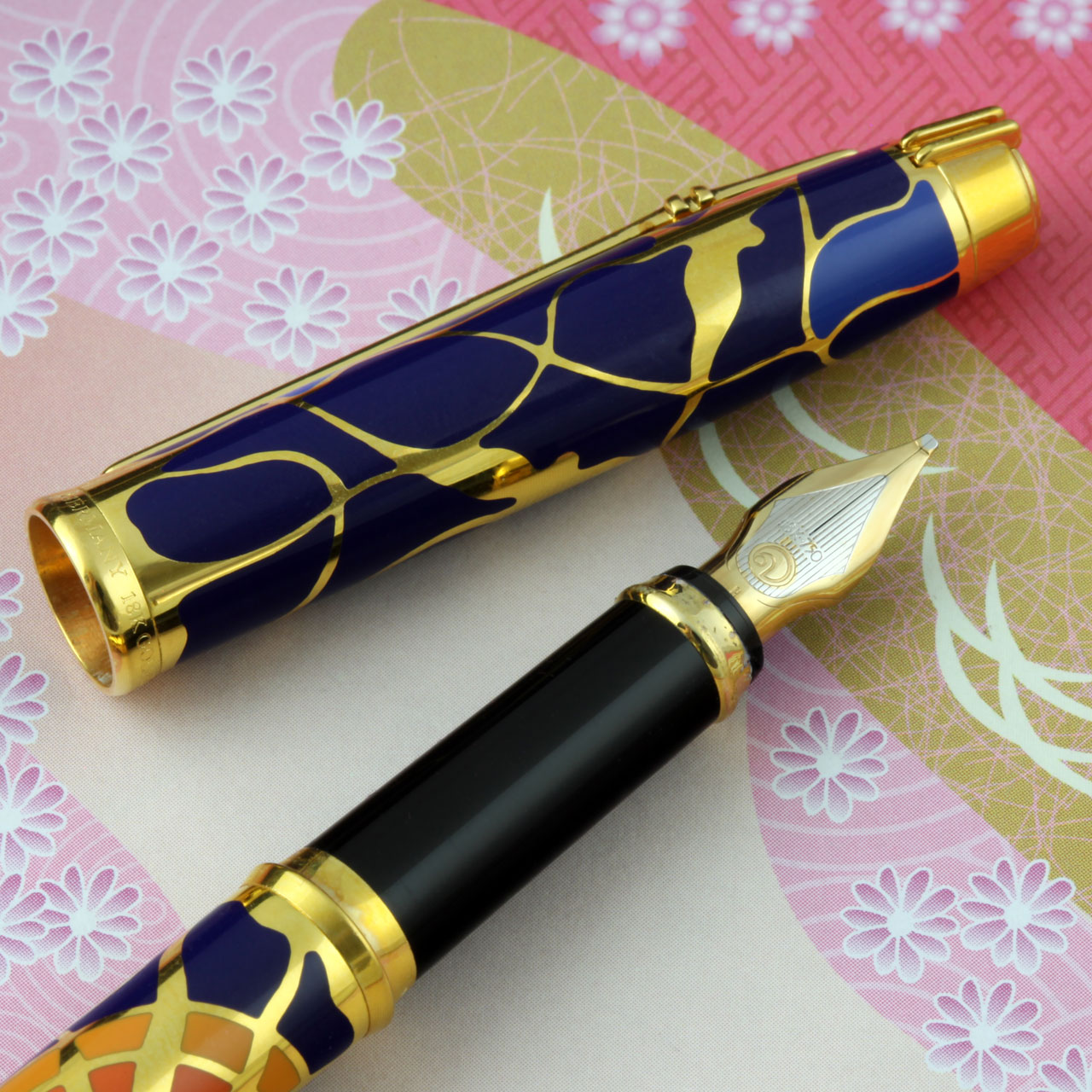 Élysée Impression Number 1 Limited Edition 1994 cap top and nib detail
The Impression Number 1 is somewhat heavy, being all brass construction, but not as heavy as the Cross Townsend, due likely to the latter pen's larger girth. The Impression Number 1 pens are slightly more slender, which should be good for those with smaller hands.
The clip is not very springy, so it probably won't clip well to a flannel shirt or a coat pocket, but it does the job well. The pen sits fairly deep in the pocket, but one should consider a starched shirt, as the pen's weight may cause it to flop around. The gold "winged" cap top makes this definite pocket jewelry that hints at the flashy pen hidden in your pocket.
Élysée nibs are very buttery smooth, and the broad point fitted to this pen is a very wet, even, and zoomy writer. The nib has a little bit of give, but the real sweetness is in how it glides on paper, a real joy to write with. This is a pen you could give to someone who has not used a fountain pen before and they would really get the bug. The pen fills easily with a piston converter or standard international cartridges.
My one real gripe with this pen is plating loss at the end of the section. This problem is not unique to Élysée pens, but with other high-end brands. The problem seems to be controllable if the section is judiciously wiped after each filling, but it's a problem that should not happen.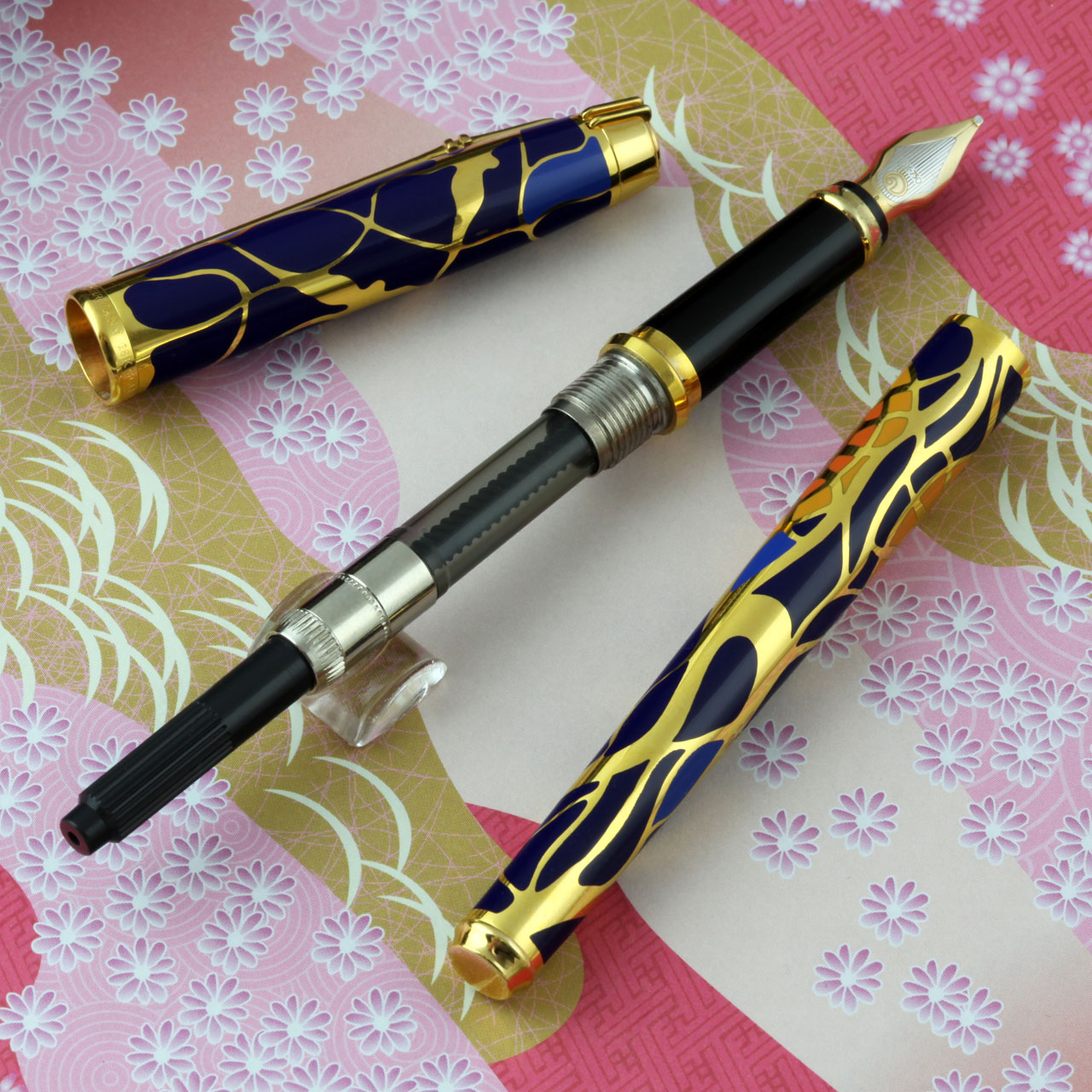 Élysée Impression Number 1 Limited Edition 1994 open
The Élysée Limited Edition pens are good daily users. These are slightly heavy, but slender pens with a very arty and flashy flair.
As Élysée is out of business as of early 2000, these pens and their Parthenon siblings are becoming harder to find. As of this writing, when the pens are turning up they are commanding higher prices, making this a pen to consider before they get away.
---
References
Élysée Impression Number 1 Limited Edition 1994 package inserts
Fountain Pens of the World by Andreas Lambrou, © 1995 Zwemmer, London, United Kingdom
Interact
Comments on this article may be sent to the editor, Jim Mamoulides