PenInHand: August, 2017
Plato 66 1961
by Jim Mamoulides, August 31, 2017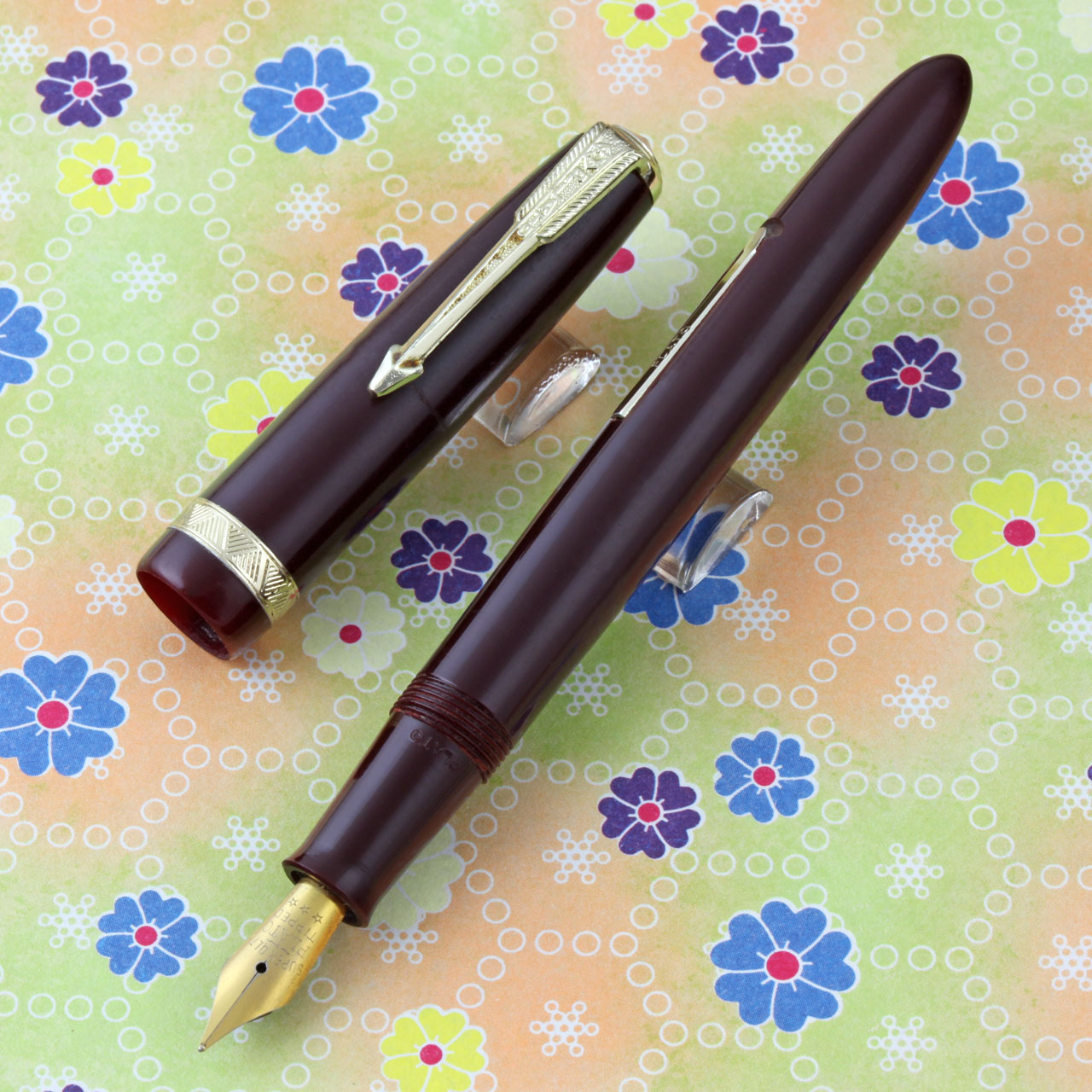 Plato 66 1961
Click the image above to see a full screen slideshow
Pen hunting often turns up the unexpected. In this case it was a Plato pen, a previously unknown to me brand from India, made by Mhatre Pen Plastic Industries. Mhatre was a pioneer in the pen industry in Mumbai, incorporated on August 18, 1951. Formerly called Bombay, Mumbai is a major financial and manufacturing center on India's west coast and India's largest city. It is the heart of the Bollywood film industry.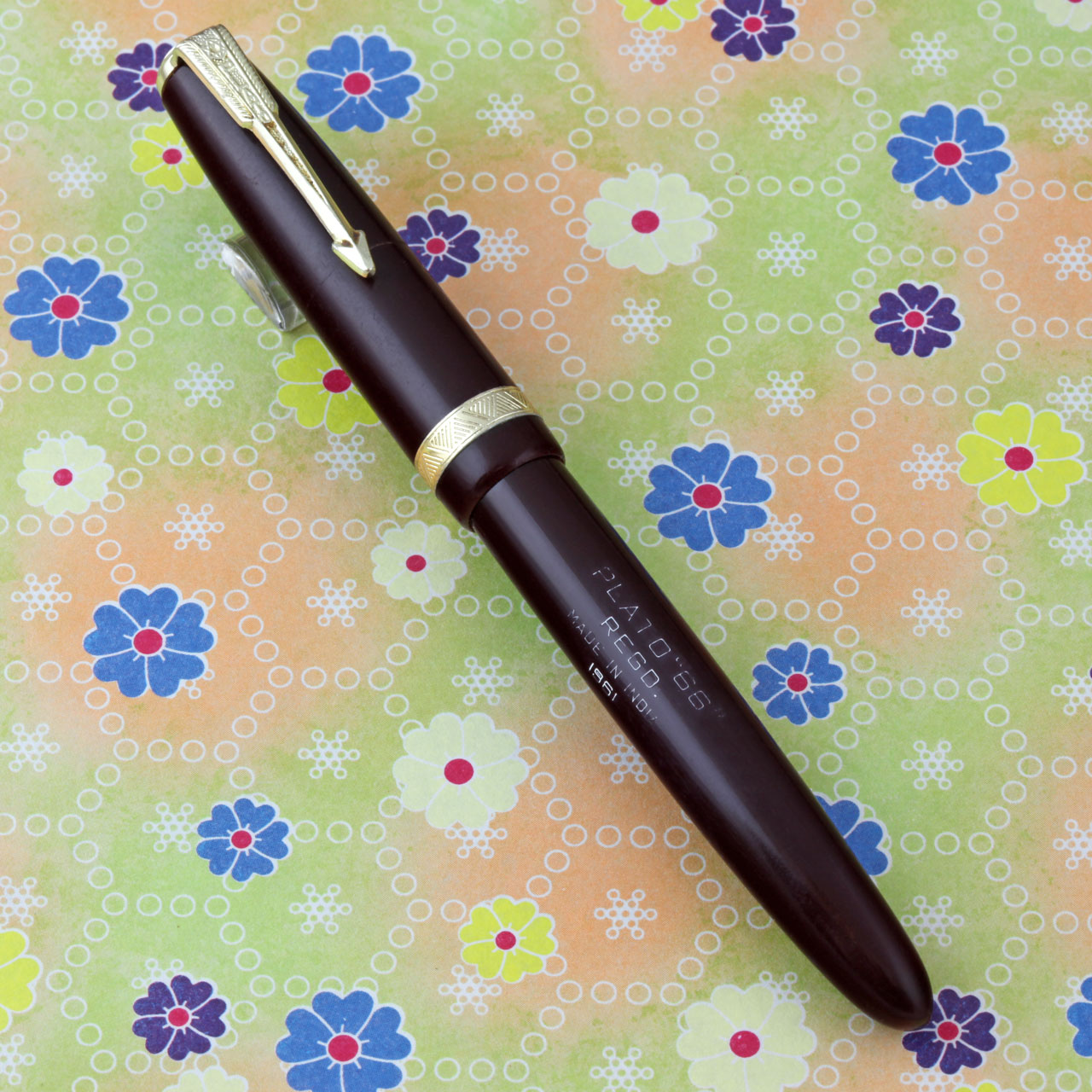 Plato 66 1961
Plato may have been the first brand Mhatre brought to market. The company represented Eversharp, Mabie Todd Swan and Waterman under license as there were import restrictions in India in the 1950s and 1960s. Mhatre also manufactured its own brands, including Plato, Doric, Homer, Commerce, Writer and Clipper. The company reportedly exited the pen business in the 1980s.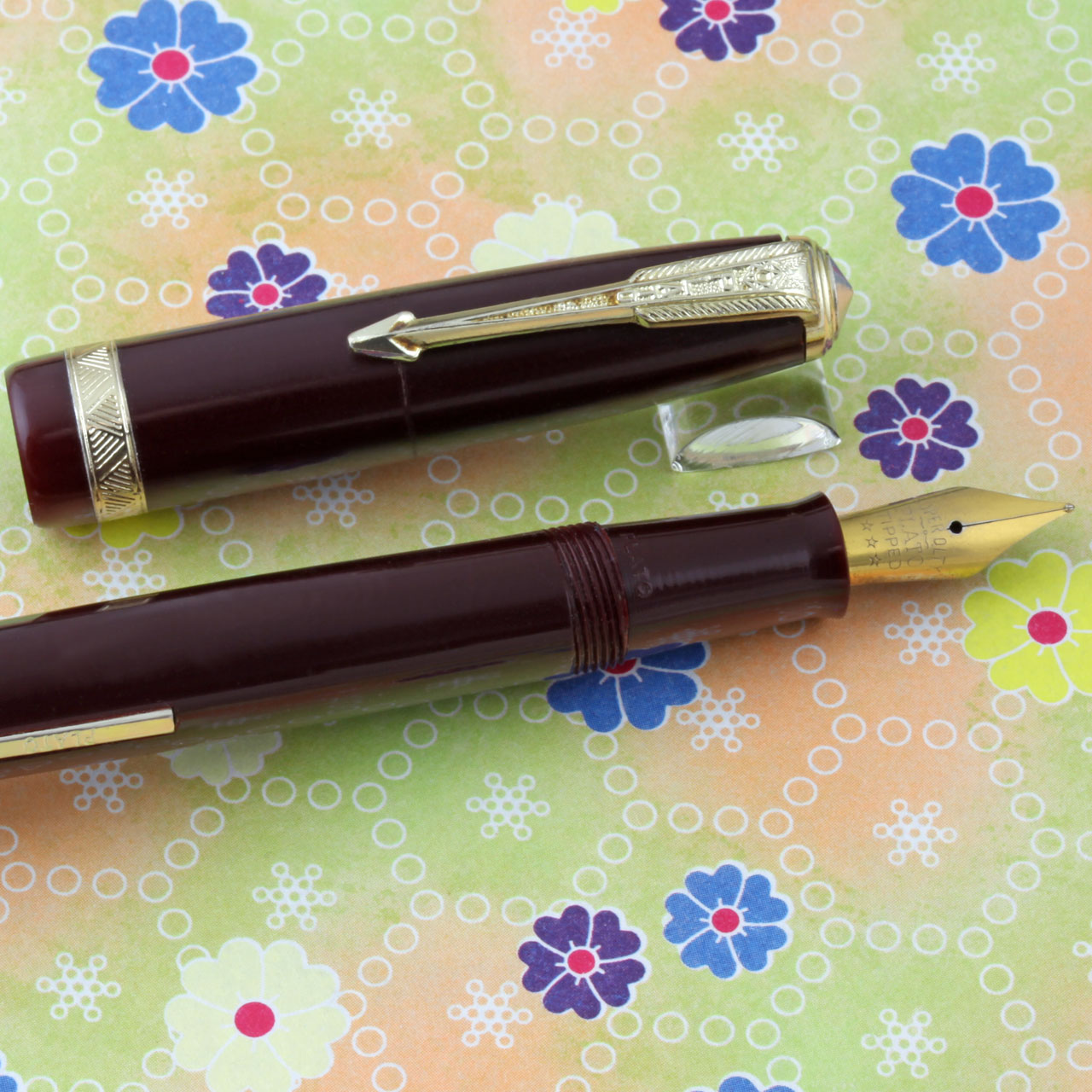 Plato 66 1961
This burgundy Plato model 66 is dated 1961 on the barrel imprint. The external design is very similar to the Parker UK Duofold Maxima, introduced in 1958.
Identification guide and features:
The Plato 66 is a simple lever-fill pen that externally favors late 1950s Parker UK designs. Mhatre stamped almost every part of the pen with the PLATO brand, including the clip, cap band, section, lever, barrel, nib and feed. The barrel imprint reads PLATO "66" over REGD. over MADE IN INDIA over 1961. It's not clear what the production dates are for this model. Examples have been seen in several solid colors.
Burgundy injection molded plastic cap and barrel. Other colors were available.
Gold plated trim
Cap unscrews
Gold plated stainless steel nib stamped SUPER QLTY over PLATO over TIPPED
Unknown number of nib grades, but extra fine, fine and medium are likely
Lever-filler
About 5 1/8 inches long with the cap on
Performance
The Plato 66 is an easy to service lever fill pen where the section unscrews from the barrel, giving quick access to the ink sac. The metal parts are gold plated, with a quite bright yellow gold.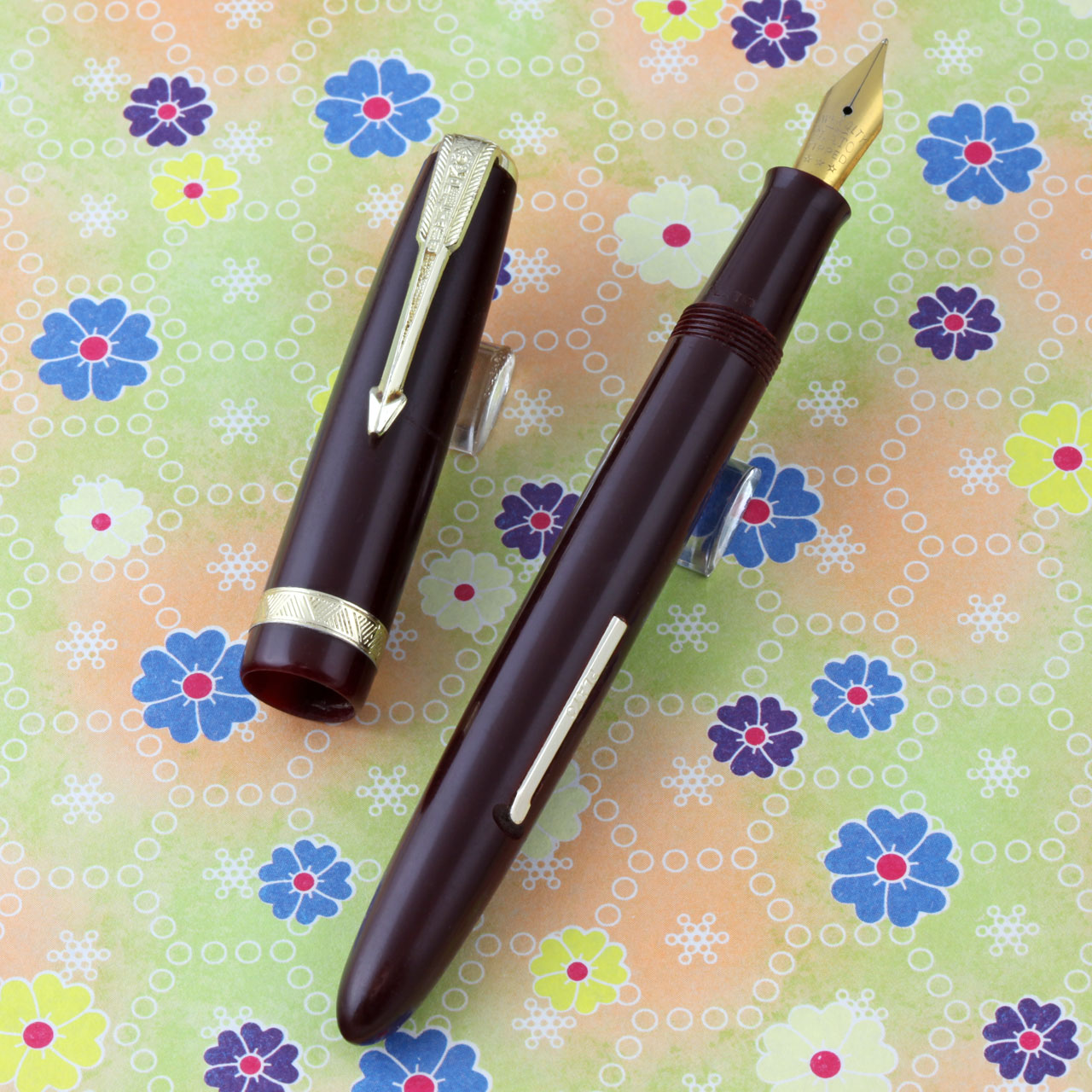 Plato 66 1961
The pen is well made, with everything fitting together tightly with the single exception of the clip screw. At some time it loosened and this encouraged the clip to move around the cap and dig in a fairly deep scar.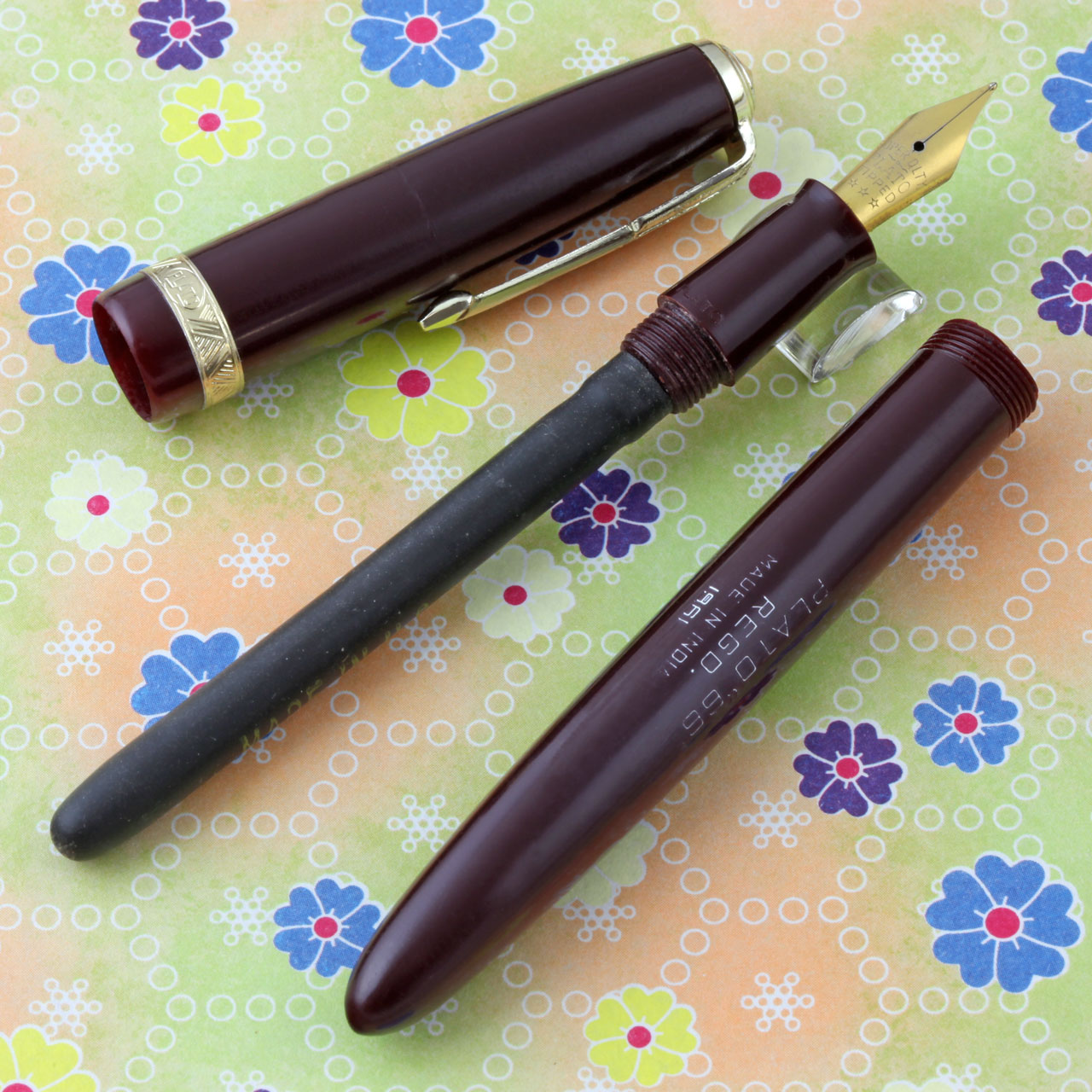 Plato 66 1961
The extra fine stainless steel nib is lightly gold plated and I would have some concern over time about the plating wearing off. The pen fills readily and the extra fine nib is quite smooth and even.
It's light and feels very good in the hand with or without posting the cap. I actually started looking for more of these pens as a result of my experience with this one!
---
References
The Bombay Fountain Pen Manufacturers and Traders Association, © 2017 The Bombay Fountain Pen
Interact
Comments on this article may be sent to the author, Jim Mamoulides